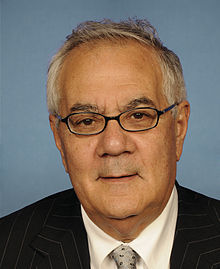 Rep. Barney Frank, D-Mass., the ranking member of the House Financial Services Committee, has accused Newt Gingrich of being a 'liar' and dismissed the Republican presidential campaign as being the 'Bum of the Month Club.'
In an interview with MSNBC, Frank responded to a news report on Gingrich's relationship with Freddie Mac by calling the former Speaker of the House of Representatives 'a lobbyist and liar.' Earlier this week, a Bloomberg report that cited anonymous sources claimed that Gingrich was paid $1.6 million for lobbying on behalf of the government-sponsored enterprise. Gingrich has denied he worked as a lobbyist since leaving the House of Representatives and has stated that he worked on behalf of Freddie Mac in a consulting capacity.
When asked by MSNBC broadcaster Martin Bashir about Gingrich's activities, Frank responded, 'Officials familiar with his work at Freddie Mac say that his role had nothing to do with lectures in history and everything to do with building relationships with Republicans on Capitol Hill. I have to ask you: Isn't that lobbying?'
Frank added that Gingrich was twice 'reprimanded for lying' by the House during his congressional tenure; Frank acknowledged that he was also reprimanded by the House for what he called 'inappropriate behavior.'
Frank then took aim at the other seven candidates for the Republican presidential nomination by comparing them to 1940s-era boxing and predicting that Mitt Romney will secure the nomination by default.
'Every month, another third-rate fighter would come in and get beat up by Joe Louis,' Frank said. 'Romney has become the inheritor of the Bum of the Month Club. You get Rick Perry who cannot remember about this and that. You get Herman Cain – now you get Newt, you had Michele Bachmann earlier. He is a very, very lucky man because he is apparently going to be the Republican nominee by default. It's everybody else's fault but his.'