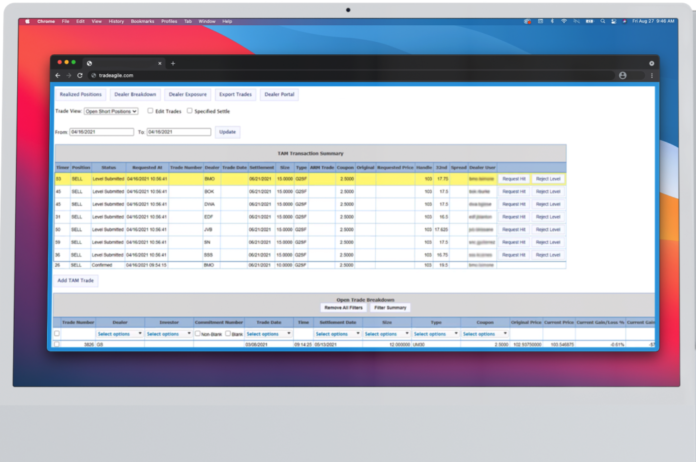 Agile, a new fintech bringing mortgage lenders and broker-dealers on to a single electronic platform, has formally launched its flagship RFQ (request for quote) platform. All mortgage-backed securities (MBS) market participants can now participate on an electronic platform that expedites the exchange of To-Be-Announced mortgage-backed securities (TBAs).
Despite the rise of electronic trading and digitization of financial services, MBS trading has largely been conducted over the phone. Phone-based trading is slow and impractical in generating numerous competitive bids. Agile is introducing a new, electronic way to quote MBS through a browser-based platform that digitizes the process of buying and selling TBAs.
"Our mission is to bring the mortgage capital markets into a new digital era," comments Curtis Richins, president and CEO of Agile. "We're democratizing the TBA market for lenders and dealers both big and small. We created Agile because we believe that a transparent market is a better market and because every counterparty deserves access to a fair, efficient and transparent marketplace."
Agile was developed with direct feedback from mortgage lenders and broker-dealers, resulting in a platform that integrates with existing processes. With the browser-based platform, lenders can request trades from any device and anywhere. Agile's three-step process for digital TBA trading communication can help lenders improve efficiency, while expanding the number of quotes they receive and their network of counterparties. For the first time, all mortgage lenders can trade with regional and primary dealers electronically.
Agile's initial roll-out began January 1, 2021. Agile has supported 261 financial institutions that have exchanged 95,600 quotes.
Agile has already received strong participation from the broker-dealer community, thanks to new opportunities for growth and operational improvement. Agile provides access to a network of lenders, facilitates increased quote requests from approved counterparties, and delivers the efficiencies of a digital trade desk. Broker-dealers also have the benefit of straight-through processing with leading trade order management systems. Featured broker-dealers currently on the platform include, but are not limited to, the following: BMO Financial, BOK Financial Securities, CMG Securities, Daiwa Capital Markets, ED&F Man, Huntington Securities, Janney Montgomery Scott, JVB Financial, Performance Trust, Raymond James, South Street Securities, Stifel, Nicolaus & Co, and StoneX.