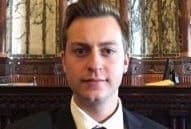 Alexander Potestivo has been promoted to associate attorney at Potestivo & Associates PC, a law firm serving the mortgage industry.
Potestivo graduated with a bachelor's degree in political theory and constitutional democracy from the James Madison College at Michigan State University and then went on to obtain his juris doctorate at Loyola University Chicago School of Law. He was sworn in on Thursday, Nov. 9, at the McCormick Place in Chicago.
Prior to graduating from law school, he served as a judicial intern for the U.S. District Court, Eastern District of Michigan, where he drafted bench memorandums, assisted in writing judicial opinions, and examined case law and legal issues, according to a company press release.
He joined Potestivo & Associates in 2008 as a file clerk in the firm's Rochester, Mich., office.  This allowed him to hone his skills and become a valuable team member through both file management and process serving, the company says in its release. He was subsequently promoted to a law clerk position in the firm's Chicago office, where he discovered his niche.
He will work out of the firm's Chicago office, assisting with matters related to creditors' rights litigation and foreclosure.