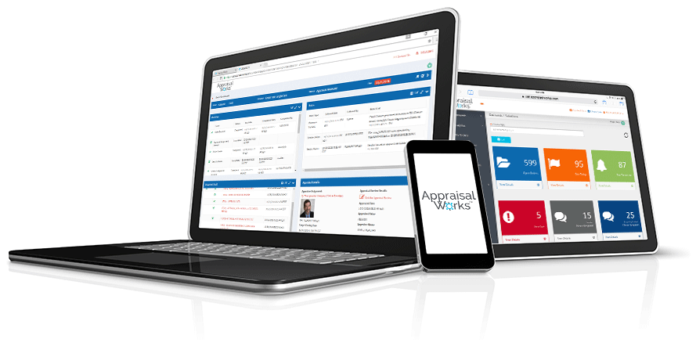 AppraisalWorks, a real estate appraisal technology provider, has partnered with Clear Capital, a national real estate valuation technology company. This partnership will make it easier for banks, credit unions, loan servicers and mortgage lenders to order, review, manage, maintain and analyze real estate appraisals and collateral valuations.
Mutual customers will have access to an array of Clear Capital's reliable residential property valuation, data collection and appraisal review reports through the AppraisalWorks platform. AppraisalWorks is the first partner to leverage Clear Capital's Property Valuation Application Programming Interface (API), an all-in-one solution that integrates seamlessly with order management systems.
"We are thrilled to have our Property Valuation API integrated with AppraisalWorks and to expand our partnership with their software," says Rhonda Johnson, senior channel partner manager for Clear Capital. "AppraisalWorks enables lenders and investors to track their property valuation orders throughout the order management process and provides real-time status updates from order creation through completion. In pairing their intuitive, intelligent appraisal management solution with our highly efficient appraisal experience, we'll be able to offer our collective stakeholders a game-changing competitive advantage."
AppraisalWorks' customers will have access to new valuation products and solutions that are added to the Government Sponsored Enterprise (GSE) selling guides in a timely manner, such as desktop appraisals and property data reports. AppraisalWorks and Clear Capital have received Freddie Mac verification for Property Data Reports (PDRs) in support of ACE+ PDR (automated collateral evaluation plus property data report).
"Clear Capital is a welcomed addition to our platform. Their nationwide network of experienced real estate professionals and appraisers, paired with the company's proven experience and modern appraisal solutions, will add tremendous value for our lender clients," states Ben Wiant, vice president of AppraisalWorks. "This partnership will further our objective to become the most dynamic, modern appraisal management platform in the industry, with the broadest availability of modern valuation services and top-tier providers."