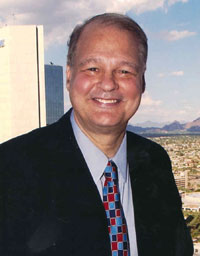 An Arizona court has ruled that the state's attorney general did not violate the law by transferring $50 million from the National Mortgage Settlement to a general fund designed to balance the budget.
The Arizona Daily Sun reports that the state's Court of Appeals decided that Attorney General Tom Horne (pictured left) had the right to disperse the funds as he saw fit. The court rejected an argument that Horne was required by the settlement to put the funds into a special restricted trust account designed to benefit distressed homeowners.
Judge Jon Thompson, writing for the court, said the proceeds of the settlement were the property of the state and Horne did not have the authority to place restrictions on how the funds would be spent.
Tim Hogan, an attorney who filed the lawsuit, says he may take the case to the Arizona Supreme Court.