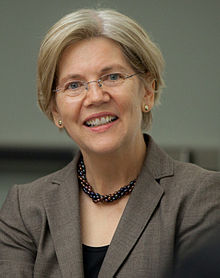 Barney Frank's public campaign to be named interim senator for Massachusetts has been seconded by Sen. Elizabeth Warren, D-Mass.
TheHill.com reports that Warren praised Frank for his knowledge of financial issues and his experience on Capitol Hill, stating, 'If he is appointed to be a senator, I have no doubt that he will be extraordinary.'
'There is no one in or out of Washington who has worked harder on financial issues than Barney,' says Warren. 'During the great financial crisis of our lifetime, Barney provided unparalleled insight and extraordinary leadership, resulting in landmark legislation.'
The Senate seat in question would be vacant if John Kerry is confirmed as the next Secretary of State. Frank has stated he has no interest in running for the seat if a special election is held later this year to fill the vacancy, but that he only wants to receive an appointment by Massachusetts Gov. Deval Patrick to fill the position until a new senator is chosen by the voters.