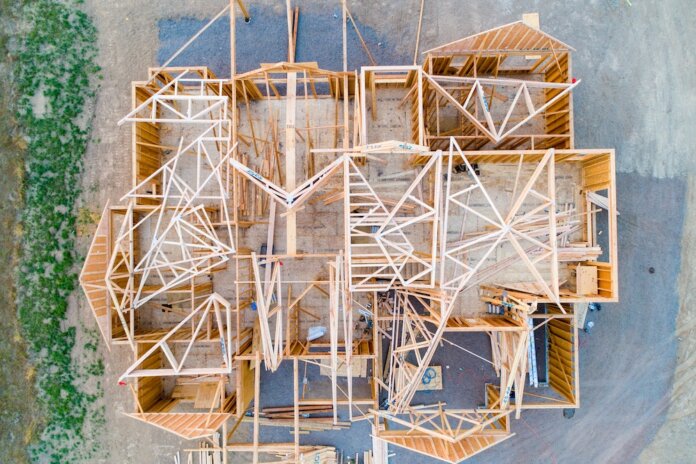 Housing starts jumped more than 12% in August compared with July – but most of the growth was in multifamily production, according to estimates from the U.S. Census Bureau and the U.S. Department of Housing and Urban Development.
Total starts were at a seasonally adjusted annual rate of 1.575 million, up from 1.404 million in July.
Year over year, production was down 0.1%.
Starts of single-family homes were at a rate of 935,000, an increase of 3.4% compared with July.
Starts of multifamily properties (five units or more per building) were at an annual rate of 621,000, an increase of 28.6% compared with July.
Regionally, and year-over-year, combined single-family and multifamily starts were up 4.6% in the Northeast and 5.6% in the South, but were down 2.4% in the Midwest and 1.5% in the West.
Building permits plummeted in August. They were at a seasonally adjusted annual rate of 1.517 million, down 10.0% compared with July and down 14.4% compared with August 2021.
Permits for single‐family homes in August were at a rate of 899,000, down 3.5% compared with July, while permits for multifamily dwellings were at a rate of 571,000, down 18.5% compared with the previous month.
Housing completions in August were at a seasonally adjusted annual rate of 1.342 million – down 5.4% compared with July but up 3.1% compared with August 2021.
"Single-family production is running at a weakened pace due elevated mortgage rates and high construction costs that have led to a major slowing of the housing market and exacerbated housing affordability," says Jerry Konter, chairman of the National Association of Home Builders (NAHB), in a statement. "The slowdown in the single-family market has been reflected in our builder surveys, which have posted declines every month in 2022."
"Today's housing starts report is more evidence that the housing recession is deepening for the single-family market, with the pace below 1 million for the last two months," adds Jing Fu, director of forecasting and analysis for NAHB. "Expected additional tightening of monetary policy from the Federal Reserve, falling builder sentiment and a 15.3 percent year-over-year decline in single-family permits points to further weakening for the housing sector. The one bright spot is multifamily construction, which remains very strong given solid demand for rental housing."
"Permits, a leading indicator of future new-home supply, were down 10.0 percent compared with July and 14.4 percent below their rate from August 2021 – a clear signal that builders are slowing production in response to cooling demand and ongoing cost challenges," says Odeta Kushi, deputy chief economist for First American, in a statement. "The decline in permits shows that builders are responding to the decline in affordability and cooling demand in the purchase market by building fewer single-family homes.
"A slowdown in new construction is concerning in the long-run because there remains a structural and long-term national shortage in the housing market," Kushi adds. "Millennials aging into their prime home-buying years and a lack of existing-home inventory, as rate-locked in homeowners see little incentive to list their homes for sale, mean that new-home construction is essential in meeting future shelter demand.
"Given the challenges builders face, it's unsurprising that builder confidence declined for the ninth consecutive month in September, treading further into negative territory. With mortgage rates rising above 6 percent, consumers are feeling the pinch of declining affordability, which may further price out home buyers, particularly more rate-sensitive first-time buyers."
Photo: Avel Chuklanov