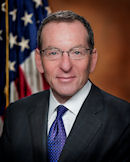 The U.S. Department of Justice (DOJ) has announced that Lanny Breuer, assistant attorney general in the criminal division, will leave the department on March 1.
In announcing his departure, the DOJ praised his work in the investigation of the manipulation of the London Interbank Offered Rate and his prosecution of Lee Bentley Farkas, former chairman of Taylor, Bean & Whitaker. However, Breuer's work at the DOJ had been the subject of controversy, particularly his handling of Operation Fast and Furious, a gun-walking program that resulted in the death of a U.S. federal agent.
On Jan. 22, Breuer was seen in the PBS documentary 'The Untouchables,' in which he defended his department's inability to bring indictments against the Wall Street executives at the center of the 2008 economic crash.
'With respect to Wall Street cases, we looked at those as hard as we looked at any others, and when a case could be brought, we did,' he said in the documentary. 'But when we cannot prove beyond a reasonable doubt that there was criminal intent, then we have a constitutional duty not to bring those cases.'
Breuer had served at the DOJ since April 2009. He previously served as special counsel in the Clinton administration and represented President Bill Clinton during his 1998 impeachment hearings.