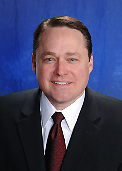 Fred Becker, president and CEO of the National Association of Federal Credit Unions (NAFCU), has announced that he will retire on July 31. Dan Berger, NAFCU executive vice president of government affairs (pictured left), will succeed Becker.
'I'm excited to take on this new role,' says Berger. 'Credit unions are the lifeblood of our nation's communities. Fred has been an unparalleled leader for NAFCU, and he set a strong and steady course leading us out of the financial crisis and built an exemplary team. I look forward to building on Fred's accomplishments and working closely with NAFCU's board, members and staff to continue to promote and advance the industry.'
Berger joined NAFCU as senior vice president of government affairs in January 2006 and was promoted to executive vice president in July 2009. During that time, he has managed five divisions within NAFCU. Prior to joining the organization, he served as vice president of government relations for America's Community Bankers and chief of staff for U.S. Rep. Katherine Harris.