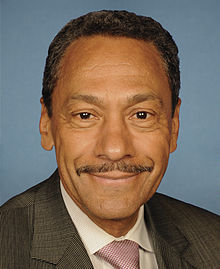 Are Edward DeMarco's days as the acting director of the Federal Housing Finance Agency (FHFA) numbered? According to the Wall Street Journal, the Obama administration is considering a North Carolina congressman as its choice to run the agency.
The Wall Street Journal, citing 'people familiar with the matter,' says that Rep. Mel Watt, D-N.C., is currently 'under consideration' for the FHFA directorship, which has been vacant since August 2009. Watt has represented the Charlotte, N.C., area in the House of Representatives for the past 20 years – Bank of America's headquarters is located in his district – and he is a member of the House Financial Services Committee.
The Wall Street Journal claims that nominating Watt, who is African-American, would 'help tamp criticism' from the Congressional Black Caucus about the absence of African-Americans from top leadership positions in the president's second term. However, the newspaper notes that Watt could face potential obstacles: he is among the few representatives to vote against a bill that cut the salaries of Fannie Mae and Freddie Mac executives, and he also accepted campaign donations from the government-sponsored enterprises prior to their being placed in federal conservatorship.
This new report is the second time in four months that the Wall Street Journal has cited unnamed sources regarding the White House's plans for changing the leadership of the FHFA. In December, the newspaper claimed that the administration was preparing to replace DeMarco during the early part of this year. The news on Watt is accompanied by a claim that the FHFA leadership decision announcement could be made 'as soon as April.'
Neither Watt nor the FHFA would comment on this news report.