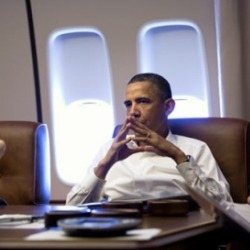 President Obama has issued a proclamation declaring April to be National Financial Capability Month. However, the proclamation had less to do with extolling the concept of financial responsibility and more to do with trumpeting the administration's economic policies – albeit by misidentifying the new agency responsible for consumer protection.
'A strong and stable economy requires responsibility from top to bottom – from banks and borrowers to workers and executives,' said Obama in his proclamation. 'To protect everyday Americans from abuses in the financial industry, I appointed Richard Cordray to head the Consumer Finance [sic] Protection Bureau (CFPB). His responsibility – and that of the CFPB – is to ensure all Americans have the resources they need to make sound financial decisions and to guarantee every individual receives fair treatment when they apply for a mortgage, take out a student loan or use a credit card.'
The proclamation also called attention to the President's Advisory Council on Financial Capability, which Obama said was committed to help 'our young people with financial skills to become successful students, entrepreneurs and leaders; to ensure American workers are able to provide for their loved ones and save for retirement; and to foster financial capability in families and communities across our nation.'
The proclamation included mention of two consumer-facing federal websites – www.MyMoney.gov and www.ConsumerFinance.gov – and the toll-free helpline 1-888-MyMoney.
The proclamation, however, made no mention of federal fiscal responsibility. According to the nonpartisan Congressional Budget Office, the federal budget deficit totaled $1.1 trillion in fiscal year 2012, marking the fourth fiscal year in a row with a deficit of more than $1 trillion.