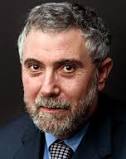 Although President Obama has yet to announce his choice for the next Treasury Secretary, more than 200,000 people have signed a petition requesting that the job go to Nobel Prize-winning economist and New York Times columnist Paul Krugman.
The petition was initiated by actor Danny Glover, who argues that the Treasury secretary position should go to an expert who understands the forces behind economic prosperity.
'We just had an election in which both candidates for president were talking about how we need to create jobs,' says Glover. 'But now that the election is over, all we are hearing about is how we are going to cut the budget. That's not going to create jobs – if anything, it will create more unemployment.Â
'We need a Treasury Secretary who understands this, who understands that Wall Street – not the government – caused the Great Recession and needs to be reined in, that austerity in a weak economy doesn't work – in the U.S. or around the world,' Glover adds. 'Paul Krugman understands all this, and he would be a great pick for Treasury secretary.'Â Â
For his part, Krugman has said he was not interested in the job.