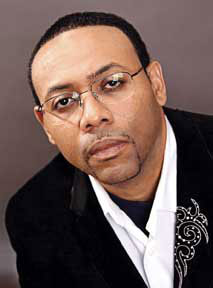 A radio talk show host billed as 'The People's Attorney' might need an attorney after federal officials charged him with a $10 million mortgage fraud scheme.
The Chicago Tribune reports that Warren Ballentine, a former prosecutor and motivational speaker whose program is syndicated through Radio One to 37 markets, is being indicted on six counts of bank fraud, false statements and mail and wire fraud. In an indictment handed down last week, Ballentine is accused of defrauding lenders as part of a scheme to obtain nearly 30 bogus residential mortgages between December 2004 and May 2006.
Ballentine used his Facebook page to dispute the charges, which were brought by the U.S. Attorney's Office in Chicago.
'For the record I'm innocent,' Ballentine wrote on Facebook. 'I made a standard fee on closings. In Illinois a buyers attorney doesn't handle any of the documents till closing so as this proceed u will see that I'm in this because I have a name. No big payday no knowledge of the paperwork. I know some may say everybody says their innocent. Well Iam if u ever bought a house how much you pay ur lawyer 500 bucks at the most what lawyer would be part of a scheme and make a standard fee? INNOCENT.'
If Ballentine is convicted, he faces a prison sentence of up to 30 years plus a $1 million fine.