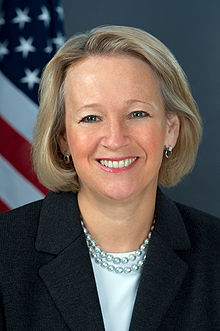 Mary L. Schapiro has announced that she will resign as chairwoman of the U.S. Securities and Exchange Commission (SEC) on Dec. 14. The White House has announced that it will nominate SEC Commissioner Elisse Walter to succeed Schapiro.
'It has been an incredibly rewarding experience to work with so many dedicated SEC staff who strive every day to protect investors and ensure our markets operate with integrity,' said Schapiro (pictured left) in a press statement. 'Over the past four years, we have brought a record number of enforcement actions, engaged in one of the busiest rulemaking periods, and gained greater authority from Congress to better fulfill our mission.'
Schapiro was appointed by President Obama on Jan. 20, 2009, and unanimously confirmed by the U.S. Senate. Schapiro previously served as a commissioner at the SEC from 1988 to 1994, and also served as acting chairwoman in 1993. She left the SEC when President Bill Clinton appointed her to run the Commodity Futures Trading Commission (CFTC), where she served until 1996. She is the only person to have chaired both the SEC and CFTC.
Walter was appointed SEC commissioner by President George W. Bush and was sworn in on July 9, 2008. Prior to her appointment, Walter served as senior executive vice president of regulatory policy and programs at FINRA.