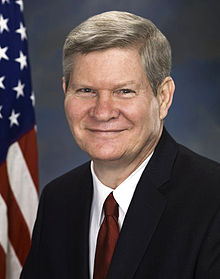 Sen. Tim Johnson, D-S.D., the chairman of the Senate Banking Committee, will not seek re-election in 2014.
TheHill.com reports that Johnson will announce his retirement later today at a news conference at the University of South Dakota. Johnson is currently in his third term, and he is the fifth Democratic senator to announce he will not seek re-election next year: Iowa's Tom Harkin, New Jersey's Frank Lautenberg, Michigan's Carl Levin and West Virginia's Jay Rockefeller have also stated they will not seek new terms.
The retirement of Johnson and the other senators could have a profound effect on the Capitol Hill power balance. Republicans need to capture six seats to win control of the Senate in 2014. However, two Republican senators – Georgia's Saxby Chambliss and Nebraska's Mike Johanns – have also announced they will not run for re-election.