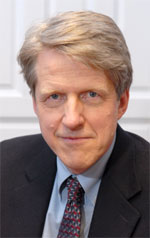 Robert Shiller is looking into the future of the housing market, and he is not optimistic.
'The housing market has been declining for something like six years now, it could go on, that's my worry,' said Shiller, a Yale University professor and co-creator of the S&P/Case-Shiller index of property values. 'The short-term indicators are up now – it definitely looks better, but we saw that in 2009.'
In a Bloomberg Television interview conducted at the World Economic Forum in Davos, Switzerland, Shiller warned that pronouncements of a recovery-bound housing market are premature.
'It's a good housing market in the sense that mortgage rates are very low and prices have come down to normal levels – so yes, it's a good time to buy if nothing bad happens,' Shiller said. 'But it's also a very bad housing market in that most of the mortgages are being supported by the government, and we have the Fed and this buying program. It's a very abnormal market. There's a lot of uncertainty going forward.'
Shiller added that the U.S. economy, on the whole, is nowhere near long-term stability.
'We've been five years in a slow economy, and it could go quite a bit longer,' he said. 'We've seen gross domestic product growth at sub-normal levels.'