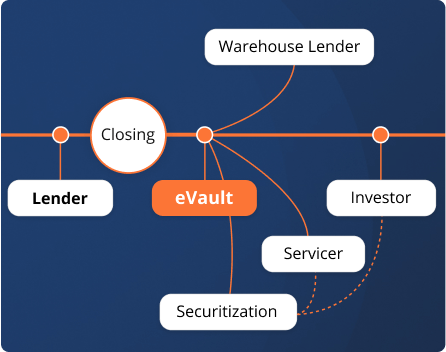 Snapdocs Inc., a digital closing platform for the mortgage industry, has launched Snapdocs eVault, a solution for the secure creation, storage and transfer of eNotes and other digital mortgage documents. The eVault will be directly connected into the Snapdocs Digital Closing Platform, expanding Snapdocs' eVault integration suite to include a natively developed option.
With the addition of this eVault, Snapdocs will provide a single consolidated platform for the creation and storage of eNotes. Borrowers can eSign closing documents, including the digital promissory note. Snapdocs will automatically store the eNote in a secure eVault, register the note with MERS and allow instant delivery to all of a lender's counterparties, including investors, warehouse lenders, servicers, document custodians and more. Lenders will be able to manage this process without ever leaving their loan origination system (LOS).
"Only by deeply understanding lenders' complex workflows has Snapdocs emerged as the industry's leading digital closing platform," says Snapdocs CEO Aaron King. "We know how to help lenders reap the benefits of eNotes, and we'll continue to make it easy for lenders to do so by working with their eVault of choice."
Despite the rapid adoption of digital mortgage technologies, lenders still struggle with the technological and business process changes required to store, manage and ultimately scale eNotes, the digital equivalent of a promissory note. Although more than 60% of lenders say that eNotes are a critical feature for mortgage closings, less than 3% of lenders are registered with MERS to create them, and roughly 3% of mortgage loans include an eNote. Meanwhile, Snapdocs lenders using eNotes today save hundreds of dollars per closing, and eNotes are a requirement to offer borrowers a full eClosing experience.
The eVault follows recent announcements by Snapdocs of Closing Quality Control, a solution to eliminate errors in the closing process, and the MISMO e-Eligibility Exchange, powered by Snapdocs, that helps lenders automatically determine the maximum degree of digitization for any given closing.
"We're working backward from a future where mortgage closings are perfect, and the enabling technologies are so good that they simply fade into the background," says King. "The capabilities we're developing will provide the digital infrastructure that will ultimately allow the seamless exchange of mortgage-backed assets across the thousands of industry participants that play a role in the lifecycle of mortgage loans."