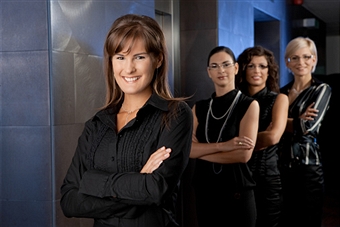 REQUIRED READING: After attending the Mortgage Bankers Association (MBA) Annual Convention in October 2012, I was heartened to make a bold assertion: 2013 will be the year of women in the mortgage industry. Now, before you assume that the remainder of this article is a set up for a bra-burning missive on mortgage industry misogyny, allow me to explain my reasoning.
Traditionally, mortgage lending has been a sales-driven business model, typically valuing and recruiting top executives from the sales side of the enterprise. It just so happens that sales tends to be a male-dominated arena, whereas females have gravitated toward operations and compliance – arguably two of the more detail-oriented roles in this industry.
To buttress this point, I conducted a non-Boolean search on LinkedIn for senior-level people in the financial services industry, using the keywords 'mortgage,' 'compliance' and 'operations.' The search turned up a total of 9,953 profiles. Using an admittedly non-scientific approach, I sampled the first 100 profiles, sorted by keyword relevance, and determined whether the profiles belonged to a man or a woman.
Of those profiles, 56 were identified as belonging to women versus 42 to men, and two could not be classified, meaning the profile was anonymous and lacked any gender-specific details (fraternity versus sorority, the use of gender-specific pronouns in recommendations, etc.). Next, I conducted a similar search using the same parameters, but this time I searched using the keywords 'mortgage' and 'sales.' That search returned 44,605 profiles. Of the first 100 profiles, 22 belonged to women versus 74 to men and four could not be classified.
Of course, the industry lacks the historical data to determine whether there have been previous peaks and/or valleys in the number of men and women in specific mortgage lending roles. Nor do we know what the overall percentage of men versus women in the mortgage industry is. However, these numbers do, to a certain extent, reflect what we intuitively know about the makeup of the mortgage industry and help explain the imminent rise of women into executive roles.
Reflective impact
Organizations tend to fill executive management positions with people whose successes mirror the company's stated objectives and overall vision. If your company values volume and sales above all else, then it reasonably follows that you would look to those areas when it comes time to hire a new executive vice president or a C-level executive. If that sales talent pool is predominantly male, then it also reasonably follows that the executives hired out of that talent pool are also going to be predominantly male.
In contrast, women in the mortgage industry have traditionally risen up the ranks through the operational environment, performing as processors, underwriters, closers, post-closers, quality control, compliance managers, etc. Thus, they tend to have an abundance of experience in the problem-solving aspects of production, as well as ample political skills honed in administrative positions.
As the mortgage industry has attempted to recover from the meltdown, which I think we can all agree was fueled by an over-emphasis on sales and volume, the focus of the industry has shifted from production quantity to production quality. Overall, the industry has accepted the notion that quality and compliance are assets. While not as easily monetized as volume might be, quality and compliance are becoming more and more quantifiable as we deploy innovative loan processing technologies, and as meaningful data becomes more readily available.
Therefore, in an environment where quality is the Holy Grail, organizations with an eye for success tend to look to the people most deeply experienced in that area. Naturally, those are going to be compliance and operations experts. If that pool of talent contains a larger proportion of women, then it quite reasonably follows that a larger proportion of women will find their way into executive roles.
Take the career progression of MBA Chairwoman Debra Still. According to her official MBA biography, Still rose through the ranks at Pulte Mortgage, where her first executive position was executive vice president of production. Three years later, she was promoted to chief operations officer, a position she held for five years before being named president and CEO.
It's no mere coincidence that Still is assuming the helm of the MBA at a time when operations/production/compliance has become the dominant focus of mortgage bankers. We'll likely see more mortgage executives with similar backgrounds and, as a result, more women rising up the ranks in the coming years.
In addition to redefining the focus of our industry, the subprime collapse also ended the reign of cronyism that had shaped the mortgage industry for decades. It's well known that the financial services industry as a whole has a reputation for subjective selectivity in how contracts have been awarded, who received promotions, and so forth.
Not so typical
If you are inclined, as I am, to find silver linings to the subprime boom, you might find one here. To my way of thinking, the opportunities for volume were so bountiful for so long that long-held barriers to entry in the industry came down, creating seats for individuals with more varied backgrounds at the table. In this way, our industry came to experience an increase in what could be described as the 'atypical' mortgage banker.
These new professionals brought with them their own knowledge and experience and are inhibited only by the quality and caliber of their loan production, plus their own technical and business savvy. In the post-collapse mortgage industry, survivors are characterized as entrepreneurs who have proven their worth with their talent rather than with their connections.
In addition, these 'atypical' mortgage bankers have breathed new life into our industry with innovative ideas and unpretentious focus on success. They offer unique ways of approaching the cumbersome beast of loan production, and in doing so, they have challenged assumptions and completely remade the entrepreneurial landscape of mortgage banking. It is that entrepreneurial spirit that showcases the best of capitalism, where hard work, ingenuity, and pure, unapologetic success define greatness.
Any time an industry labors under the same assumptions for too long, it creates the seeds of its own destruction. Without an infusion of new ideas and different perspectives, an industry will stagnate. While the subprime collapse severely weakened the mortgage industry, it did not break it, and that is due in no small part to the flourishing diversity of both personnel and thought that had been incubated in the years leading up to the crisis.
In the wake of the fallout, cronyism became less important than actual performance, and the rise of some of these non-traditional mortgage entrepreneurs has really strengthened the fabric of our industry. We need to celebrate and try to perpetuate this, not only as an industry, but as a society as well. This kind of success is predicated on the idea that performance is the key.Â
Nobody should be allowed to survive without being able to perform. We just need to make sure that the barriers to entry are such that we are encouraging the best and the brightest in class rather than just fostering older assumptions and relationships simply because they are easy, familiar and comfortable.
The reality of the American entrepreneurial landscape is that it's a lot more varied than the list of the top Fortune 100 executives would have us believe. Diversity is good for more than just filling quotas or securing contracts. Study after study has proven that diverse work groups foster innovation, creativity and, ultimately, success.
We have democratized entrepreneurship within the mortgage banking business, which ensures that there are a multitude of unique voices at the table, and the degree to which those voices are heard depends entirely on the strength and merit of the ideas being expressed. For an industry that's billing itself on 'investing in the American dream,' that can only be a good thing.
Ruth Lee is executive vice president of Titan Lenders Corp., based in Denver. She can be reached at ruth.lee@titanlenderscorp.com.