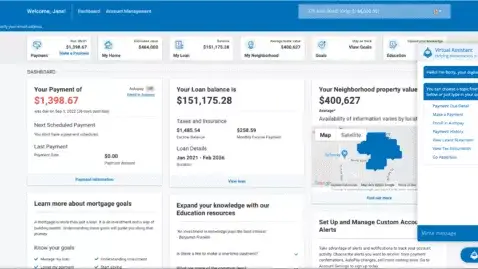 The chatbot automation solution from ServisBOT, a provider of customer and employee service automation, is being integrated with the Conversational AI platform, a part of the Black Knight Servicing Digital solution. Through the integration, homeowners can engage with their servicers via a chatbot, requesting pertinent information or documents related to their mortgage or home.
Adding ServisBOT's chatbot and conversational AI technology to Servicing Digital allows mortgage servicers to easily integrate a chatbot via readily available APIs and take advantage of more automated self-service across multiple digital channels.
Cenlar FSB, a residential mortgage subservicer, is utilizing ServisBOT integrated with Servicing Digital to transform digital self-service experiences for their customers with its Borrower and Forbearance bots.
"ServisBOT has been an excellent partner in helping us expand our digital capabilities to enhance the homeowner experience," says Shanth Ananthuni, director of digital transformation at Cenlar FSB. "Their integration with the Black Knight Servicing Digital solution has enabled us to integrate and deliver clear self-serve options for homeowners by automating requests to navigate homeowners to functions such as payments, autopay and document access. And, when a homeowner wants to talk with a live representative on a more complex need, the transition is seamless and simple. I am looking forward to seeing this strategic relationship deepen further to allow us to introduce new services to market, faster."
"The ability for customers to self-serve in their preferred digital channels and have immediate access to the information they need is a must for today's consumer," comments Cathal McGloin, ServisBOT's CEO. "A chatbot is the perfect digital assistant that can respond to homeowners' requests day and night; proactively reach out to enroll them in autopay, paperless statements, or other services; and/or upload relevant statements and documents instantly. The addition of ServisBOT chatbot automation to the Black Knight Servicing Digital solution will help mortgage servicers offer chat-based self-service capabilities that enhance their customers' experience and reduce the cost to serve."
"Integrating the ServisBOT chatbot automation solution with Servicing Digital is yet another example of Black Knight's open ecosystem that enables the delivery of innovative solutions to help servicers enhance engagements with their customers through their preferred digital channels," adds Sandra Madigan, Black Knight's chief digital officer. "Not only can chatbot solutions improve the customer experience, they can also automate services to deliver greater efficiencies and lower operational costs."