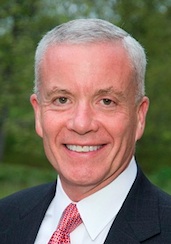 Commercial real estate firm Cushman & Wakefield Inc. has named former Goldman Sachs exec Edward C. Forst as president and CEO.
Forst joins the company following his tenure at Goldman, Sachs & Co. as global co-head of the investment management division, as a member of its management committee and previously as the firm's chief administrative officer. Most recently, he served as an advisor to Fenway Partners, a private investment firm.
Cushman & Wakefield says Forst has 30 years of experience working in international asset management, capital markets and operational leadership.
During the financial crisis of 2008-2009, Forst was selected to be the first executive vice president and principal operating officer of Harvard University, leading its non-academic affairs, and served as advisor to the Secretary of the Treasury of the U.S.
He will join the firm effective Jan. 6, 2014.