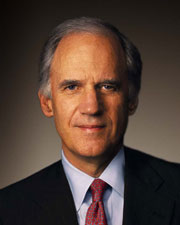 William B. Harrison, Jr., former chairman and CEO of JPMorgan Chase, has been selected to receive the Museum of American Finance's 2013 John C. Whitehead Award for Distinguished Public Service and Financial Leadership.
Harrison retired as JPMorgan Chase chairman at the end of 2006. Previously, he held the position of CEO of Chase Manhattan Corp. from June 1, 1999 and presided over the mergers with J.P. Morgan in 2000 and Bank One in 2004.
'Bill truly embodies the spirit of the Whitehead Award,' says David Cowen, president and CEO of the Museum of American Finance. 'In addition to his important contributions as a financial leader, he has dedicated much of his time to meaningful charitable work.'
The Museum of American Finance will present this award to Mr. Harrison at its annual gala on Tuesday, Jan. 8, 2013.