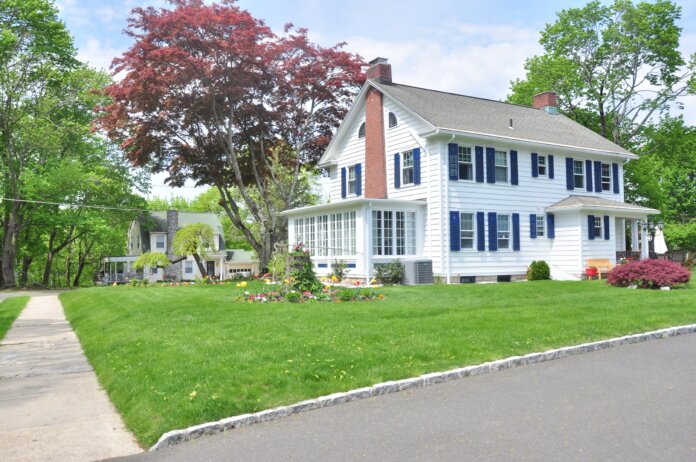 According to a new report from Redfin, the median U.S. home-sale price fell 2.7% during the four weeks ending May 14, the smallest decline in over a month.
Monthly mortgage payments hit a record high due to still-high prices and elevated mortgage rates. On a local level, home prices are declining in 28 of the 50 most populous U.S. metros, down from a high of 32 metros at the end of April.
That reflects a mismatch between demand and supply propping up prices. Pending home sales are down 15% from a year earlier, but that's much smaller than the 24% decline in new listings.
Today's elevated mortgage rates continue to discourage homeowners from selling; nearly all of them have a mortgage rate below 6%, while this week's average 30-year rate was 6.39%. The dearth of new listings has drained inventory, with the total number of homes for sale dropping over the past two months, going against typical seasonal trends.
The share of homes selling that are doing so within two weeks (48%) is also bucking seasonal trends, illustrating urgency from buyers who don't have much to choose from. That share has steadily increased over the last two months, while it typically falls this time of year.
"High mortgage rates continue to dictate the housing market," says Taylor Marr, Redfin deputy chief economist. "Although a lot of homebuyers have acclimated to rates in the 6% range and many are finding ways to lower their monthly payments, like using a 2-1 buydown, high rates are handcuffing potential sellers.
"It's hard to imagine a flood of new listings until rates come down at least into the 5s. For those who are selling now, the silver lining of giving up a low rate is that hardly anyone else is doing the same thing. That means buyers, who are hungry for new listings, will bite – and they don't have much power to negotiate the price down."
Newly built homes could help alleviate the inventory shortage even if rates remain elevated, and there are signs more may be coming. U.S. homebuilder confidence rose for the fifth straight month in May, hitting its highest level in nearly a year, and permits for single-family homes rose to a seven-month high in April.
As of May 14, the median home sale price was $371,875, down 2.7% from a year earlier, the smallest decline in a month. Prices are up about 7% from the start of the year, a typical seasonal increase.
Home-sale prices declined in 28 metros, with the biggest drops in Austin, Texas (-17.8% YoY), Oakland, Calif. (-16.3%), San Francisco (-13.1%), Las Vegas (-11.4%) and San Jose, Calif. (-9.6%). Those are the biggest declines since at least 2015 for Oakland and Las Vegas.
Sale prices increased most in Milwaukee (9.2%), Fort Lauderdale, Fla. (9%), New Brunswick, N.J. (6.4%), Indianapolis (4.9%) and Newark, N.J. (4.4%).
The median asking price of newly listed homes was $398,429, down 0.3% from a year earlier. Although it's small, that's the first time asking prices have posted an annual decline since May 2020.
The monthly mortgage payment on the median-asking-price home hit a record high of $2,573 at a 6.39% mortgage rate, the current weekly average. That's up 9.5% ($224) from a year earlier.
Pending home sales were down 14.6% year over year, the smallest decline in two months. That doesn't necessarily mean pending sales are improving; instead, it reflects buyers backing off last spring as mortgage rates rose.