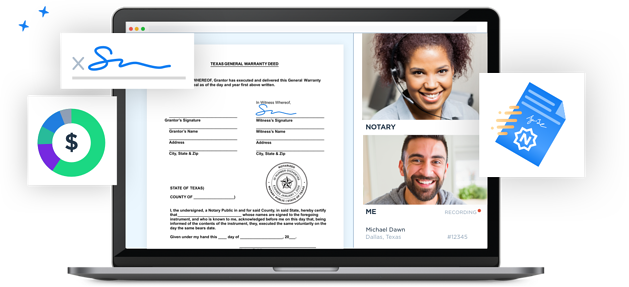 Notarize, a remote online notarization company, and Snapdocs Inc., a digital closing platform for the mortgage industry, have partnered to deliver an end-to-end digital closing experience that now includes Notarize's RON solution.
Snapdocs enables lenders to connect with all parties and technologies involved in a mortgage transaction to complete the entire closing process online and powers millions of closings per year for lenders, title companies, and notaries.
Through its fully integrated platform, Snapdocs customers can access a remote online notary through the Notarize platform to conduct the fully digital closing. With Notarize, signers can digitally notarize documents via any device in a remote online video meeting with a commissioned live notary for a fully digital mortgage that is convenient, compliant and available in nearly all 50 states.
"Snapdocs has supported the real estate industry's shift toward a digital-first approach for mortgage closings by giving lenders the tools they need to provide their customers the best possible experience, while driving real efficiencies within their operations," says Todd Maki, head of business development and partnerships at Snapdocs. "Adding Notarize's RON solution to our platform is a great example of how we're helping mortgage lenders orchestrate a more perfect mortgage closing that is fully digital, highly efficient and error-free."
"Snapdocs has built an incredible platform that is helping the entire real estate ecosystem move closer to a future where most or all closings are fully digital, to the benefit of everyone involved in the transaction," adds Pat Kinsel, Notarize's founder and CEO. "At Notarize, we've built the gold standard RON solution and have also been working towards that same future. Partnering with Snapdocs gets everyone there faster."