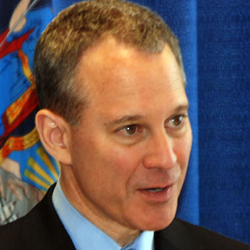 New York Attorney General Eric Schneiderman is continuing his push to remove Edward DeMarco from the leadership of the Federal Housing Finance Agency (FHFA) by insisting that President Obama has the authority to fire the housing regulator.
Reuters has obtained an eight-page memorandum prepared by Schneiderman's office that argues the White House has the legal authority to dismiss DeMarco from his job as FHFA acting director.
'We conclude that the president has the authority to remove the acting director at will, and that there is a strong argument that he also has the authority to designate a new acting director, although the answer to that question is less certain,' the memorandum stated.
Schneiderman has been a longtime critic of DeMarco and has publicly called for his removal from the FHFA; DeMarco has held his job since August 2009. The new memorandum also recommends replacing DeMarco with Sandra Thompson, who was recently appointed to serve as an FHFA deputy director.