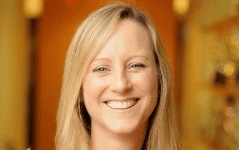 By a narrow margin, the Senate on Thursday approved Kathleen Kraninger as the next director at the Bureau of Consumer and Financial Protection.
Kraninger will replace Acting Director Mick Mulvaney, who has led the bureau since November 2017.
Kraninger is President Trump's choice to run the bureau. She has worked closely with Mulvaney in his other position as the director of the Office of Budget and Management.
Kraninger's appointment in July drew the ire of Senate Democrats, some of whom said she didn't have the past experience or the qualifications to run the bureau and who saw her nomination as a ploy to keep Mulvaney at the helm for an extended period of time. Some consumer groups also opposed her nomination for fear that she would continue to roll back certain regulations, as Mulvaney had, thus weakening consumer protections.
The Senate Banking Committee approved Kraninger's appointment in August by a narrow margin.
Last week, the Senate voted 50 to 49 to bring her nomination to a full vote. She was approved on Thursday – also by a slim 50 to 49 vote.
Mulvaney's appointment as acting director last year also inflamed House and Senate Democrats – mainly because outgoing CFPB Director Richard Cordray had selected then-Deputy Director Leandra English to serve as interim director upon his resignation.
Immediately following Mulvaney's appointment, English sued Trump and Mulvaney, arguing that she should have been named acting director under a provision of the Dodd-Frank Act – which established the CFPB – that allowed Cordray to promote her.
A federal judge later tossed her request for a restraining order, which, had it been granted, would have blocked the administration's appointment of Mulvaney to serve as acting director.
English then requested a preliminary injunction that would have installed her instead of Mulvaney at the helm of the bureau. That request proved unsuccessful and English took her case to the U.S. Court of Appeals.
However, in July, English announced that she would drop her lawsuit and leave the bureau, since Trump had formally nominated Kraninger to be the agency's permanent director.
Industry reaction to Kraninger's Senate approval has generally been positive.
Shannon McGahn, senior vice president of government affairs for the National Association of Realtors, said, "Under Kraninger's leadership, we believe the bureau will properly protect consumers and support businesses that help more individuals achieve the American Dream of homeownership.
"Earlier this month, NAR spearheaded a support letter for Kraninger to Senate leadership, an effort that was supported by over 20 housing and financial organizations from across the industry," McGahn said. "Ultimately, NAR is pleased to see Kraninger confirmed, and we look forward to working alongside the bureau in our shared efforts to protect consumers, ensure compliance certainty in the marketplace and strengthen our nation's housing industry."
Robert D. Broeksmit, president and CEO of the Mortgage Bankers Association (MBA), said Kraninger "is an intelligent, experienced administrator who has worked on a broad range of complex, high-profile issues over the course of her career."
"We look forward to working with her and anticipate she will continue the bureau's efforts to protect consumers by providing financial institutions clear and understandable regulations accompanied by appropriate compliance and implementation requirements," Broeksmit added.
John Ryan, president and CEO of the Conference of State Bank Supervisors (CSBS), said "state financial regulators look forward to continuing our relationship with the bureau under Director Kraninger's leadership."
"State regulators have a vital role in enforcing consumer protections and work closely with the bureau on behalf of the consumers in every state and U.S. territory," Ryan added.
However, Congresswoman Maxine Waters (D- Calif.), a ranking member of the Committee on Financial Services who opposed Kraninger's nomination, urged Kraninger to reverse the actions taken by Mulvaney to roll-back some of the post-financial-crisis regulations established under Dodd-Frank.
"The Consumer Financial Protection Bureau was specifically designed by Congress to be an independent watchdog for America's consumers and I am committed to ensuring its statutorily mandated mission is not undermined," Waters says in a statement. "Mick Mulvaney took a series of actions to weaken the agency's ability to carry out its important mission, while benefitting the predatory actors the agency is designed to police. He has done everything in his power to roll back consumer protections, strip the agency of its resources and compromise its independence.
"Now that Mulvaney is no longer at the helm, I call on Director Kraninger to put consumers first by rolling back the anti-consumer actions taken by her predecessor and allowing the Consumer Bureau to resume its work of protecting hardworking Americans from unfair, deceptive or abusive practices."
Among the changes Mulvaney has brought: Changing the name of the bureau from the CFPB to the BCFP.