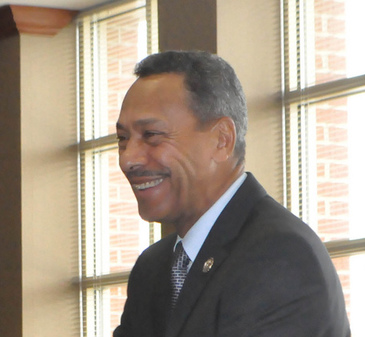 President Obama has announced his new man for the role of Federal Housing Finance Authority (FHFA) director: U.S. Rep. Melvin Watt from North Carolina, a Democrat.
'One of the best things I can do is to nominate Mel Watt to lead the Federal Housing Finance Agency,' the president said during his announcement on Wednesday afternoon.
'He's represented the people of North Carolina for 20 years – every one of them as a member of the committee that oversees housing policy,' Obama remarked. 'And in that capacity, Mel has led efforts to rein in unscrupulous mortgage lenders. He's helped protect consumers from the kind of reckless risk-taking that led to the financial crisis in the first place. And he's fought to give more Americans in low-income neighborhoods access to affordable housing.'
If the U.S. Senate confirms the president's nomination for the role – something that hasn't happened since the FHFA took shape in 2008 – Watt will replace acting FHFA Director Edward DeMarco.
For his part, DeMarco has had a tumultuous tenure as director since 2009 – partly because his stances often collided with the Obama administration's, and partly because of the tumultuous state of the housing market itself.
The long-term status of government-sponsored enterprises Freddie Mac and Fannie Mae has not come into clear focus under DeMarco's term, and it is unclear what policies Watt will pursue for the secondary market giants.
However, some policy-makers have already sounded their displeasure with Obama's choice to lead the FHFA, as well as with the shortcomings of the GSEs.
'I could not be more disappointed in this nomination,' said U.S. Sen. Bob Corker, R-Tenn. 'This gives new meaning to the adage that the fox is guarding the hen house.
'The debate around his nomination will illuminate for all Americans why Fannie and Freddie failed so miserably,' Corker added. 'Before any nominee should be considered for this post, regardless of their qualifications, the administration should explicitly lay out how they will unwind these entities.'
Across the aisle, Sen. Elizabeth Warren, D-Mass. – who was instrumental in the formation of the Consumer Financial Protection Bureau (CFPB) – expressed her approval of Watt as the next leader of the FHFA, but also took the occasion as an opportunity to criticize DeMarco.
'The president has made an excellent choice in nominating Mel Watt to be director of the Federal Housing Finance Agency,' Warren said. 'The Senate should confirm Congressman Watt soon so he can get to work stabilizing shaky housing markets and helping struggling homeowners.
'In the meantime, I believe the administration needs to remove Ed DeMarco as acting director of the FHFA,' she added. 'Under DeMarco's leadership, the FHFA has refused repeatedly – often with cold indifference – to work with families struggling to save their homes. Families deserve an FHFA that pursues helpful policies like principal write-downs and abandons senseless rules like those that prevent foreclosed homes from being re-sold to their original owners.'