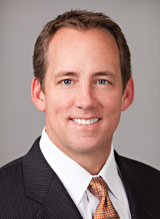 PERSON OF THE WEEK: If anything, Jeff Moyer is certainly versatile when it comes to selling. Prior to becoming president of Agoura Hills, Calif.-based Interthinx, he held senior management positions in such diverse companies as Xerox Corp., Cadbury Schweppes and Homestore.

But although Moyer has been involved in several different industries, he has maintained a core focus on building and running a strong sales operation. MortgageOrb spoke with Moyer on his view of how to achieve sales success.
Q: In your opinion, what are the key elements needed to create and maintain a successful sales operation?
Moyer: There are three key elements to creating and maintaining a successful sales operation: people, purpose and relationships.
You first need to have the right people in the organization with the ingredients necessary for success. Those individuals need to have an intense appetite for success, a willingness to learn and a desire to be part of a winning team.
With the winning team in place, the next element is purpose. Our pursuit of success needs to be centered around a common goal. There needs to be clarity and consistency with our mission and value proposition, and these are two fundamental components that need to be continuously reinforced throughout the industry.
As for relationships, those are the key to any sales organization's success with its customers. From these relationships, we are able to learn where and how we can help our customers, driving future direction and innovation.
Q: Conversely, what are the key problems that can prevent a sales operation from reaching its full potential?
Moyer: A lack of consistent messaging and clarity of purpose can be deadly to an organization's sales efforts. A successful sales team needs to be united around a common purpose and value proposition, and that message needs to be consistently communicated to the customer and prospective base both through direct sales efforts as well as the organization's marketing efforts. Absent these two ingredients, customers will have trouble identifying the reasons why they should be selecting you as a partner, or in the case of current customers, keeping you as one.
Q: Which type of sales do you find more challenging – B2B sales or B2C sales?
Moyer: In my opinion, B2C sales are far more challenging. With B2B sales, typically there are both individuals and processes in place dedicated to the procurement of services, and so there tends to be a true focused effort on the part of the client in fulfilling specific needs.Â
With B2C sales, several challenges arise, including the following:
Focus – the individual you are approaching in B2C sales typically wears all of the hats of an organization, including sales, finance, operations, customer service, etc.
Process – simply because there are not individuals dedicated to the effort, there tends to be no process built around the procurement of services and prioritization can often change daily.
Budget – budgets with B2C sales are understandably much smaller and typically not as well defined.
Q: On the whole, how would you rate the quality of salesmanship within mortgage banking?
Moyer: Of course, this is going to vary greatly by organization. However, mortgage banking is certainly a mature industry and, as a result, there are some excellent organizations that have built out and retained excellent sales teams over the years.Â
Competition has a lot to do with it, since mature industries will tend to have very competitive service provider environments where constant reinvention of their sales efforts and messaging needs to occur in order for them to remain competitive. The mortgage banking industry in general also tends to have a very entrepreneurial spirit to it, which tends to help draw great talent.
Q: What do you see as the sales challenges for Interthinx in 2013?
Moyer: The biggest challenge we've had over the past several years, and one that continues as we head into 2013, is trying to predict and measure market volatility. This will not only have a significant effect on sales results, but it can also absolutely affect the customers and cause what may otherwise be considered critical projects or procurements to take a back seat in order to simply address the challenges of shifting market volumes.