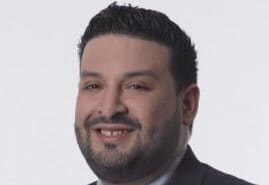 PERSON OF THE WEEK: From lead generation to digital point-of-sale to appraisal to automated underwriting to digital closing, technology is completely changing the mortgage process – and the transformation has, at times, been a breathtaking revelation for mortgage professionals at all levels.
What's interesting to note is that there are varying opinions as to where technology is having the most impact. This is partly because certain professionals see the impact mostly in their respective segments; e.g., underwriters see what technology is doing to their role but might not necessarily be aware, to the fullest extent, of what it's doing to the appraisal segment.
To get a more macro view of how technology is transforming the mortgage lending industry, MortgageOrb recently interviewed Jorge Ponce, director of product and vendor management at FirstClose, a mortgage settlement services firm offering credit, flood, valuation, tax and title services to mortgage lenders. The company is also the publisher of the FirstClose report, which compiles credit, valuation, flood, tax and title data in a single report, with results returned within 30 seconds.
Q: How is technology changing the way lenders perform today?
Ponce: Particularly in this current market, lenders are challenged more than ever to provide competitive loan offerings to borrowers. As mortgage rates are expected to continue rising – and the pool of eligible borrowers is decreased – the environment will only continue to grow more competitive.
As a direct result, the most successful lenders are increasingly relying on technology to transform their operations and gain new efficiencies. Even beyond adopting new solutions, lenders are using technology to change and adapt the way their products are being used.
A significant part of this transformation has to do with the vast amounts of data available to lenders. Over the last five years, the industry has seen a huge uptick in the amount of electronic property data at its fingertips, and this seems to be growing exponentially year over year.
This data is, and will continue to be, a major catalyst for change in the way lenders operate, since it can be used for practical applications across operations. Traditionally, a lender was expected to consider all information surrounding the property before making a loan, including value, flood zone status, owner(s) and whether or not there was any current interest on it. It would then pay a third party to complete research on each property – including appraisal of the property, reading county records and obtaining deed history. Now, property reports collect and combine all the electronic property data instantly from various sources in one comprehensive package.
Using technology in tandem with this data, lenders are able to collect information for closings more efficiently than ever. And now, more counties' information is available online, so lenders have the capacity to cover more ground and explore more footprints from the comforts of their own home or office.
Q: What were some of the major tech advancements in 2018 that will continue to impact the lending industry in years to come?
Ponce: One of the major advancements that has impacted the industry is the growing use of title plants. A title plant is a collection of data that stores and produces information about titles, including any records that may impact the title of real estate property. This information is compiled from the most trusted sources, including county recorders, tax assessors, tax collectors and courthouses. With this data collected in a centralized location, lenders and service providers are able to significantly reduce the time for title companies to deliver services.
The industry is also experiencing a renewed interest in embracing hybrid valuations, which is a valuation model that has resulted from a joint effort between real estate agents and appraisers effectively working together while, at the same time, independently focusing on their particular contribution to the product. The real estate agent does not share a value with the appraiser; the appraiser simply uses the data aggregated by the real estate agent to establish a final value.
Although this product has been around for years, lenders are now starting to consider it to be a viable and valuable alternative to traditional appraisals at much lower costs and quicker turnaround times. These digital hybrids are an ideal way for innovative mortgage lenders to create a streamlined, uniform standard for appraisals.
Q: How do you see mortgage technology evolving further in 2019?
Ponce: Because the industry landscape is expected to become even more competitive in the year ahead, mortgage lenders will be forced to rely more and more on technology to streamline their processes, creating cheaper, faster loans, all while creating a better and easier experience for borrowers.
By adopting new products driven by technology, lenders will continue to take advantage of the valuable data to thrive in this rapidly changing marketplace, particularly as rates continue to rise.
Borrowers now expect, even demand, instant answers, and only the lenders that satisfy this demand through automation will thrive.