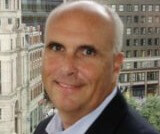 PERSON OF THE WEEK: Larry Alston is senior vice president and general manager for Mortgage Builder Inc., an Altisource business unit that combines best practices, a broad partner network and an end-to-end loan origination platform to help lenders close more loans for less money while also meeting compliance.
Alston, who is relatively new to the mortgage industry, previously worked as president of FuseSource Corp., an open source integration and messaging company (acquired by Red Hat in September 2012). Before FuseSource, he held senior management positions at EnterpriseDB, IONA Technologies and eXcelon Corp. MortgageOrb recently interviewed Alston to learn more about how he is adjusting to the mortgage industry and the role big data will play in originations moving forward.
Q: Being relatively new to the mortgage industry, what were your first impressions?
Alston: What jumped out at me the most was how under-served the mortgage industry is by its technology vendors. A lot of lenders continue to do things the way they have always been done – even if it is in a manner that is less efficient and/or manual, which is oftentimes inconvenient for potential borrowers.
It is an industry begging to be automated and renovated. This provides an amazing opportunity for those companies that are willing to look at the industry from a different perspective and use technology to deliver a much better borrower experience.
What gets me up in the morning and excited about Mortgage Builder is that outside forces, for the first time in a long time in the mortgage industry, are going to drive innovation. What I mean by the outside forces are the millennials that are hitting the marketplace with an expectation that people should be able to do a mortgage completely online, or at least in self-service mode, with the same type of customer experience as if they were shopping for clothes or buying a car online.
The consumer expectations, coupled with the regulatory environment, are increasing the competitive forces entering the marketplace. For example, during the Super Bowl, there were advertisements from Rocket Mortgage and Guaranteed Rate talking about digital mortgages and quick mortgages; those are examples of the outside forces that I am talking about.
Q: Your background is in the big data industry, or enterprise infrastructure industry. How are you applying your knowledge and skills to the mortgage industry?
Alston: The outside forces that I spoke about are driving people to look at new technology and will be based on things such as big data, consumer analytics, analytical reporting and the ability to scale.
At Mortgage Builder, we believe that the industry will ultimately favor vendors that have the ability to scale. Those that have the scale to deal with their partners, have the ability to go out and audit partners, deal with much higher loan volume, and have the ability to properly handle the cost of regulatory compliance are the types of things that the market will demand.
It will be technology that is hosted in the cloud, centered on data and providing accessibility to the data. The data will not only help lenders drive their businesses, but also provide the insight into how they can improve their businesses going forward. These are key things that we will bring to the market in the next few years.
So, why does a "techie guy" from the big data business come to run Mortgage Builder? It is because I feel there is opportunity to take what is happening in other industries and apply them to improving the mortgage process. Those improvements will provide our customers with a tremendous competitive advantage over time.
Q: There is much talk about technology in mortgage – but is it really all about the technology?
Alston: Technology is an enabler. It is never about the technology completely, right? The technology can make things accessible to the lenders that aren't accessible to them today. So for instance, I don't think people think of iPods as high tech – but it really is high tech. It comes in a form that makes a lot of data accessible – very easy to use and consume.
So, the ability to initiate a mortgage, check on the status of a mortgage, clear exceptions on a mortgage – people should be able to do these things on an iPhone or other mobile device, anywhere, anytime.
So when you talk about technology, it is an enabler to make things accessible, transparent and seamless for lenders and borrowers alike. That's what lenders are looking for from their technology providers.
Q: Where can the mortgage industry benefit from change?
Alston: The biggest benefit that lenders can get from the changes mentioned is the ability to close more loans with higher quality using fewer resources while delivering an enhanced user experience.
We always talk about the lender wanting to close more loans with fewer full-time employees (FTEs) because everyone equates FTEs with cost. So, it is really about how a lender reduces costs. The ultimate goal of all of the changes that we are talking about – including putting data in the cloud – is to make a lending business better. By that I mean making data more accessible to end users, closing more loans at a higher quality and adhering to regulatory compliance – and doing it at lower cost in a predictable manner.
Q: How does one affect change amidst layers of rules and regulations and decades of doing things a certain way?
Alston: Technology can't do it by itself. Things are changing, and lenders can't keep doing things the same way just because that is how it has always been done. Lenders are going to have to adapt to the technological changes that are occurring.
Software alone can't do that for lenders. For instance, when a lender implements a new loan origination system (LOS), it is an opportunity for that lender to rethink and change its business operations. If all a lender is doing is taking its current processes and automating them, it is missing an opportunity to improve. There is no value in automating a broken or inefficient process.
Lenders are absolutely going to have to rethink how their processes work when they adopt new technologies. It is an opportunity, not a burden.
Q: What should lenders be looking for when they are evaluating their mortgage technology?
Alston: IT and technology should no longer be viewed as second-class citizens – or as a necessary evil. What lenders should be looking for in a technology vendor is a partner who takes the time to truly understand the business.
So, when a lender is considering vendors – whether it be an LOS vendor or a doc prep provider – it should select ones that have a vision for where things in the industry are going and that have ideas for making business more efficient.
Most importantly, lenders need a partner that is capable of making these changes possible. The partner will bring to bear different kinds of solutions, not just technology. So, if lenders need extra underwriting strength in boom times, or if they need better quality control strength and want to outsource that function, they require a partner who understands those needs. It is critical to have a partner that understands that part of the business and can provide the necessary insights to make it happen.
The key is having a partner that has a broader perspective than just technology. The partner must understand the overall operational needs of lenders and can help them save money when outsourcing. There are times when outsourcing is the right decision for the lender's business.
Q: What issues are the most pressing for lenders in 2016 – and how can technology help?
Alston: Lenders are still working through the Consumer Financial Protection Bureau's new TILA-RESPA Integrated Disclosure (TRID) rule. They are suffering from all of the implications of properly executing the TRID requirements.
Also, I think we are going to see national-scale lenders such as Quicken Loans, with its Rocket Mortgage, and Guaranteed Rate become much more aggressive in the marketplace. What people must realize is that these lenders are going to be able to offer more sophisticated products in a low-touch manner. That competitive pressure is going to become tangible – and the need to reinvent and retool is going to become more and more pressing.
Q: Where do you see the industry going in the next two to five years?
Alston: There is going to be increased consolidation in the industry over the next couple of years. There will be fewer lenders, and much of that will be driven by the increased competition from the lenders that have successfully scaled. In addition, the industry will experience continued regulatory pressures, which, during TRID, clearly favored those lenders that could scale and properly meet regulatory burdens. Without the right technology partners, it is going to be very difficult for lenders to remain competitive.