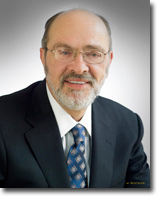 PERSON OF THE WEEK: Rome, we've been told, was not built in a day – and the excessive level of community blight that has invaded many communities as a result of the housing crisis will certainly not be wiped away in a day. In order to understand the depth and scope of this situation and to consider successful strategies for addressing the problem, MortgageOrb spoke with Robert Klein, the founder and chairman of the board at Valley View, Ohio-based Safeguard Properties.

Q: How serious is the problem of neighborhood blight? Is this a crisis that spreads across the country, or is it more pronounced in certain markets and/or regions?
Klein: Blight is a risk in every neighborhood with multiples of vacant and abandoned properties. The threat is greater in neighborhoods with lower value homes. Even with routine maintenance, all vacant properties will deteriorate and lose value the longer they sit vacant, as they are often targets of vandalism and other criminal behavior. When lower value homes are destroyed of value, the only option is to demolish them.
The Wall Street Journal recently reported that no market exists for 4 million of the 14 million vacant homes across the country. Until these properties are demolished, they will perpetuate more blight, as prospective homeowners and businesses will not invest in neighborhoods where they are present.
Q: On the whole, are state and local governments taking the initiative to combat blight? Or does the mortgage banking industry need to take a leadership role on this issue?
Klein: All levels of government and the mortgage industry need to work together to support a housing recovery. The best way to stabilize housing prices and stimulate the housing market is to reduce the numbers of vacant and abandoned properties. If those homes are uninhabitable, they need to be demolished. If they are viable, we need to encourage investors to repair and rehabilitate, especially to create housing opportunities for lower income people.Â
Troubled borrowers need help to stay in their homes to discourage abandonment. And when properties are abandoned, the foreclosure process must be accelerated to reduce the time properties sit vacant until they can be sold and reoccupied.

Q: Several states have either considered or are considering legislation to accelerate vacant and abandoned properties for foreclosure. What impact can this type of legislation have on blighted communities?
Klein: Each state creates its own foreclosure statutes. As a result, the foreclosure timeline can vary from a few months in non-judicial states, where court intervention is not required, to as long as two years in judicial states that process foreclosures through the courts. The longer the foreclosure process takes, the longer a property sits vacant and deteriorates.Â
Not only does the property lose value, but it negatively impacts the value of surrounding properties. By accelerating the foreclosure process for vacant and abandoned properties, states can help protect the quality and value of our nation's housing stock. The sooner a vacant property can be sold to a responsible buyer, the better it is for everyone.
Q: Earlier this year, Rep. Steve LaTourette, R-Ohio, introduced legislation to provide up to $4 billion in demolition funding for blighted communities. What happened to this legislative proposal, and, for that matter, why hasn't the subject been talked up more on Capitol Hill?
Klein: That's a good question! The legislation was supported by a bipartisan delegation from Ohio and Michigan. It is designed to provide $4 billion in demolition funding for the hardest-hit cities through the sale of bonds, not through taxes.
Cities like Cleveland, Detroit, Buffalo and so many others have made significant investments in demolition, but they need more help to demolish the huge backlog of uninhabitable homes to make way for a housing recovery. This is a creative solution that will help stabilize and improve property values, encourage prospective homeowners and businesses to invest in struggling neighborhood, and rebuild community tax bases.
Q: A considerable number of community groups are skeptical, if not hostile, to the mortgage banking industry. What can the industry do to win their trust – and, on the flip side, what can the community groups do to win the trust of the mortgage bankers?
Klein: I think we are seeing much more collaboration between community groups and the mortgage industry because we all recognize we have a common goal to protect and preserve properties, neighborhoods and communities. The best example of this is the increasing numbers of property donations from the mortgage industry to community development corporations and land banks.
By donating properties, mortgage companies remove low-value assets from their books and eliminate the carrying costs for maintenance, taxes and other expenses. From a community perspective, these properties then can be managed in a more strategic and comprehensive way to eliminate blight, provide affordable housing options for first-time and lower income buyers and attract businesses, as well as create community gardens, green space and recreation areas that improve the quality of life.