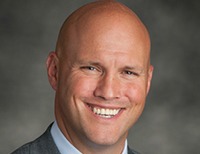 BLOG VIEW: As we celebrate Veterans Day and honor those who've served, it's an opportune time to step back and discuss something that is just as important to success in business: our purpose as mortgage banking professionals.
At NewDay USA, we are committed to putting veterans back on the road to saving and achieving the American Dream of buying a home. Our team comes to work each day with a noble purpose and a devotion to serving our nation's veterans. What differentiates us as a company is that serving the veteran community and active servicemen and women is all that we do. Serving veterans and their families is a defining characteristic of who we are and allows us to take a long-term approach to building our business.
Nine years ago, like other mortgage companies, NewDay navigated through the global financial crisis. Today, mortgage bankers are further reinventing their approach in our industry. Understanding the fundamentals of credit discipline, the training and development of your team members, and innovation and technology are important dimensions to the success of any mortgage company. But those alone are not enough.
Because the average age in our industry is approaching 58 years old, NewDay has also realized the importance of developing our industry's next generation of mortgage bankers. Our belief in that need is so strong that we built NewDay University to train account executives, underwriters and processors upon graduation from college. We established "training for a career" and "providing opportunity" as core values that, together, guide our team. It is these core values that have enabled our average employee at NewDay to be 28 years old.
Where there is growth, there is opportunity. Since 1999, the paradigm at our company is to select, train and develop the future mortgage bankers and leaders on our team. At the outset, when they enter NewDay USA University, our new team members meet our company's leadership. Our executive chairman, Admiral Tom Lynch (USN, Ret.), and I, along with our managers, explain to each of them that we can grow only as fast as we grow our leaders to take us there. Our goal, therefore, is to help them grow both as people and as professionals.
Nourishing such a culture starts by establishing core values and instilling these values into every aspect of the company. For a purpose-driven company serving the veteran population, giving back to servicemembers, veterans and our community is not just something we do – it is part of who we are. That devotion to serving our nation's veterans with integrity is the noble purpose that guides our team every day.
About five years ago, it became clear that our purpose-driven approach, and our core value of "giving back," should be commensurate with our long-term vision. We decided to form a 501(c)(3) organization, the NewDay USA Foundation. Five percent of the company's net income is contributed annually to the foundation, and volunteerism is actively encouraged and promoted.
Recognizing that accessing educational opportunities at private schools can be a burden for military families, the No. 1 priority of our foundation is to provide scholarship funds to select military JROTC college preparatory schools for Gold Star Families and the children of severely disabled veterans. These scholarships prepare students for college and promote their healing and recognize their families' sacrifice. More than 25 young men and women were awarded scholarships at eight schools in 2016, with a goal to reach 100 scholarships in the years to come.
Through our corporate giving and foundation efforts, we've been able to sponsor or support many worthy organizations. Among those on the list are the United Services Organization, the Vietnam Veterans Memorial Fund, the Military Bowl, the Congressional Medal of Honor Foundation, Baltimore Station, and the Boulder Crest Retreat for Military and Veteran Wellness.
For our teammates, the service they provide individually, and collectively as members of the NewDay team, is met with the deep personal gratification they experience through our workforce volunteer programs. From serving homeless veterans at Baltimore Station, to building a horse barn at Boulder Crest for an equine therapy program, or being the company that cleans the Vietnam Veterans Memorial Wall – all of these activities have played a significant role in promoting understanding and empathy for the idea of service. Through our team's interaction with servicemembers and their families, it is vital to their "veteran experience" and appreciation of the sacrifice of those we serve.
NewDay's purpose is embodied in each of our core values – giving back, providing opportunity, integrity, resilience and training for a career – and by ensuring that we put every veteran family in a better place, with a real tangible benefit. Through these values, and by helping to prepare the next generation of leaders in our industry, we intend to contribute to the future of mortgage banking, with professionals who embrace a culture of giving back and changing lives.
Veterans Day is a time to reflect on how fortunate we are for the freedoms we all enjoy and the service of those men and women in uniform. The satisfaction that comes every day from doing important work on behalf of our nation's veterans is a noble purpose.
Rob Posner is founder and CEO of NewDay USA, one of the top companies in the industry serving the mortgage banking needs of veterans and active members of the armed services. NewDay USA is a registered trade name of NewDay Financial LLC. The company is approved by the Federal Housing Administration and Veterans Affairs and is a Ginnie Mae-approved issuer/servicer.